Walgett Shire proudly offers all the ingredients for a great outback lifestyle – scenery, relaxation, recreation and revitalisation. It has an abundance of wildlife and flora on display, not to mention the spectacular sunrises and brilliant sunsets to open and close your day.
Walgett is the administrative centre of the shire which includes several towns and villages including Lightning Ridge, Collarenebri, Carinda, Burren Junction, Rowena, Grawin and Cumborah.
Located beside the Namoi River, near its junction with the Barwon River, Walgett offers country charm along with some of the facilities of a larger town. Walgett Shire offers a friendly relaxed lifestyle and there are many sporting and recreational facilities available.
Many people living in Walgett take advantage of the proximity of the Narran Lakes to watch the abundant birdlife and the hot Artesian bore bath is popular with locals and tourists.
Walgett Shire invites you to come and 'love the life we live' where genuine country hospitality awaits.
Living here
Regional villages and towns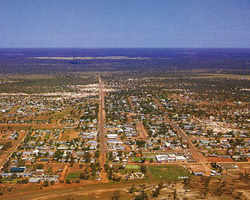 Lightning Ridge is 78km north of Walgett. Home of the black opal, here you will find a charismatic town, with no shortage of things to occupy yourself, including a cool down in our Olympic sized swimming pool and water theme park, a meal at one of our cafés and restaurants, a hot artesian bore bath, art galleries, bowling club and weekly markets. Or you can even get your own claim and fossick for opal for a living!
Lightning Ridge features events galore, including the Lightning Ridge Easter Festival (including race meet), Lightning Ridge Opal Festival and ARTober.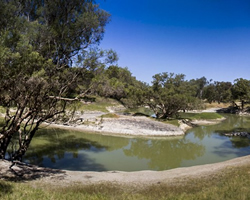 Collarenebri is located 75km north east of Walgett on the Gwydir Highway, and is known as the home of the cod. Make yourself at home here if you are after a quiet country town with good fishing. The town features a small supermarket, service station, hospital/multi purpose service, central school, and a handful of other small businesses.
Events in Collarenebri include the annual race meeting and mud trials.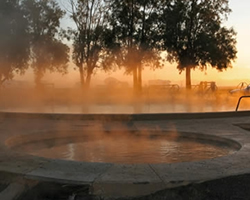 Burren Junction is 92km east of Walgett along the Kamilaroi Highway. Agricultural industries of wheat, sheep and cattle sustain the surrounding community, and increasingly so with the expansion of the cotton industry. The Junction City Hotel offers regular entertainment and hearty meals, and the hot Artesian bore bath (located just out of town) is frequented by tourists. Burren Junction also features an annual Carp Muster each March, and celebrates other annual events, like Australia Day, locally.
Map of Walgett